22.09.2021
HMC @ HiDA Data Science Career Day on 22 September 2021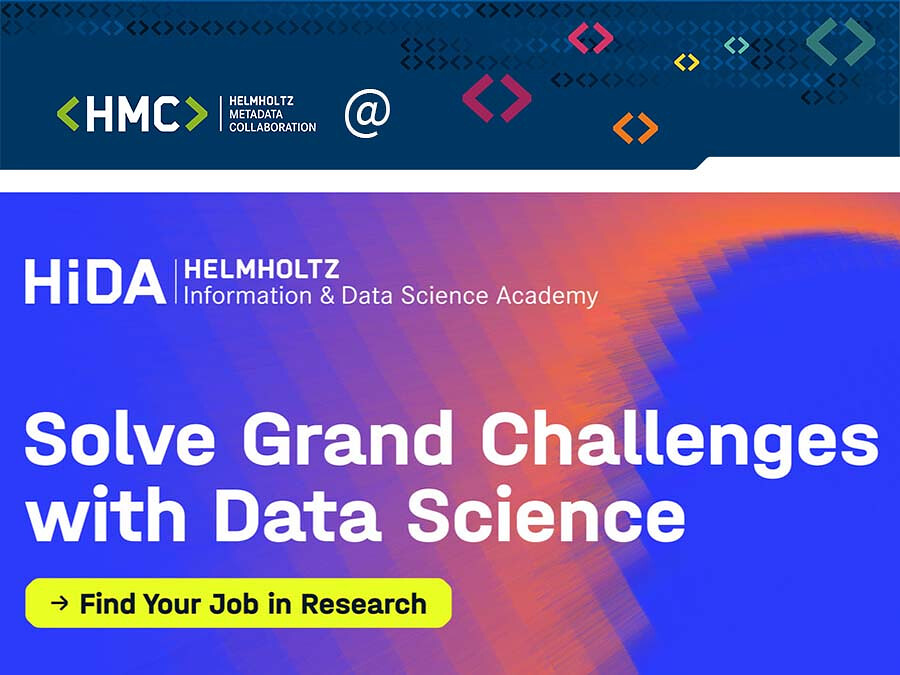 Data Scientists are in demand on the job market: all 18 Helmholtz Centers have already advertised several positions calling for skills in AI methods in 2021. At the Helmholtz Data Science Career Day on September 22, 2021, centers and partner institutions will now come together to present career opportunities from PhD to professorship in all research areas to international Data Science talents. The Helmholtz Metadata Collaboration (HMC) also presents itself and vacancies in several of its discipline-specific hubs.
The early afternoon conference program will provide general insight into the exciting research and pathways of data scientists at the Centers: How can research data from a wide range of disciplines be documented in such a way that they can be exchanged well internationally in the future and can also be used again by other disciplines? How does one get to lead a supercomputing center that hosts one of the top-15 fastest high-performance computers in the world? What does it mean to earn a PhD in Marine Data Science? And what career tips do experienced female data scientists give other women? These questions and more will be answered online in video format in lectures and panels with Q&As.
The late afternoon offers more opportunity for networking. In Chatroulette-like video chats, Data Science talents first meet with new scientists from the centers every five minutes. After that, there will be opportunities to deepen conversations at the expo booths in a videoconference format.
This year, a total of 23 Helmholtz centres, platforms and projects will be presenting themselves. In addition to HMC, they include the German Aerospace Center, the German Cancer Research Center, Forschungszentrum Jülich, Helmholtz Zentrum Dresden Rossendorf, Helmholtz Zentrum Berlin, Helmholtz Center for Information Security, Max Delbrück Zentrum and Helmholtz Centre for Environmental Research. In addition to other Helmholtz institutions, partners such as Bitkom, the German Academic Exchange Service and the Israel Data Science Initiative will also be presenting themselves at the Career Day.
Helmholtz Data Science Career Day 2021 is being organized for the second time by the Helmholtz Information & Data Science Academy. Last year, the event attracted around 550 visitors from 80 countries.
Would you like to attend the Helmholtz Data Science Career Day? Learn more and register here.