Why metadata?
Metadata are an elementary part for making research data usable by researchers and all interested parties now and in the future. They are fundamental in making research data findable and enable their reusability by third parties and over a long period of time. However, research data are often insufficiently and not consistently described with metadata, which makes the reusability of the research data difficult or even impossible.
The HMC platform goal is to overcome those obstacles. It is intended to coordinate the use of metadata within the disciplines and institutions and to support their usage with tools and services.
As part of the Helmholtz Association and its structure, the HMC platform has the ideal prerequisites to achieve this goal. Its division into hubs of the various research areas of the Helmholtz Association, it is possible to initially coordinate within or between related disciplines to determine their metadata requirements, and in a further phase this coordination can be continued by the central office across disciplinary boundaries in order to make metadata usable across disciplines.
Metadata requirements result from the requirements of the scientific disciplines, but also overarching requirements have been developed within the research data community and summarized in the FAIR Data Principles. Following the FAIR Data Principles research data have to be Findable, Accessible, Interoperable and Reusable.
The mission of the Helmholtz Metadata Collaboration (HMC) is to facilitate the discovery, access, machine readability, and reuse of research data of the Helmholtz Association. This is done to allow for advanced methods of data processing, such as computer modeling, techniques of machine learning, integration into complex systems and others. For this purpose, concepts and services are developed and established, allowing the enrichment of research data in the various phases of their creation. this is done by means of a suitable, standard-compliant description with metadata. The aim is to co-ordinate these services with the national and international scientific community in order to establish widely accepted practices in the handling of research data.
Research and especially research data is extremely valuable as it is always unique. Today's progressive digitization and instrumentation allow researchers to generate high data volume. Therefore, research data has to be inseparably linked to standardized, machine readable and complete metadata in order to achieve reproducibility and reusability, e.g. by provenance metadata. By supporting standards and tools for metadata handling, interoperability with national and international research data infrastructures can be ensured.
That's why the Helmholtz Metadata Collaboration Platform (HMC) is needed as one of the platforms, initiated by the Helmholtz Association.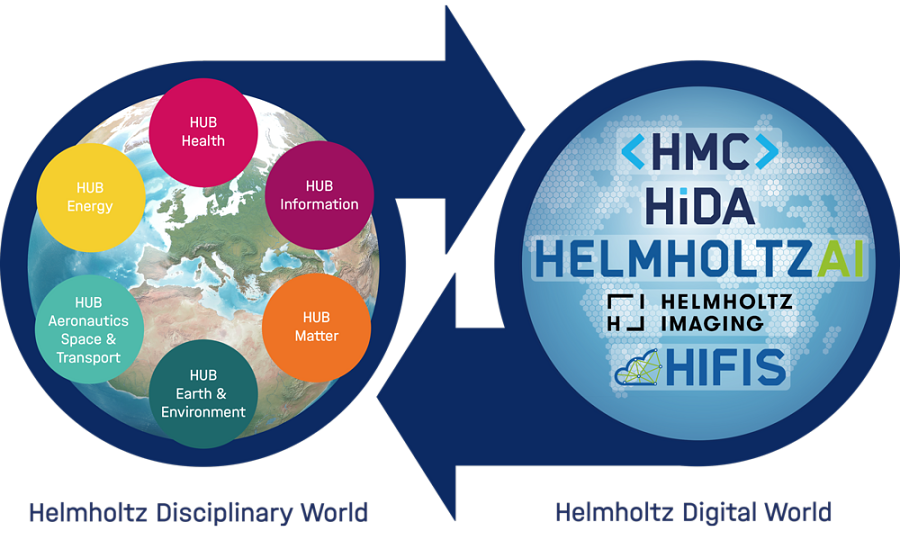 As such HMC is part of a digtal transformation process where the traditional disciplinary world will enabe the new digital world.
The goals of HMC are:
Keep research data "alive" by fostering reusability

Promote the qualitative enrichment of research data by means of metadata

Interoperability by implementing metadata standards

Increase trust and international visibility of research data (due to services for the citation and reuse of data)

Improve scientific reputation of researchers (due to high quality of research data, through their description via metadata)

Facilitate interdisciplinary research topics
To reach these goals HMC established so-called metadata hubs for each of the six research fields represented in the Helmholtz Association, which function as interface between the domain experts and HMC.
The domain experts from the different research fields bring in expertise, ideas, and demands from their own subject areas through the metadata hubs. The hubs introduce the subject metadata to the stakeholders, highlight the importance of metadata within research data management and offer advice. Along with FAIR Data Commons sustainable infrastructure services for the storage, reuse and international exchange of metadata are facilitated. Generally applicable processes, technical solutions (e.g. tools), best practices, training and consultancy services are centrally organized and embedded in international efforts. These are made available association-wide to all hubs and can be customized and utilized according to the specific subject.
Thus, the existing isolated solutions should be replaced or optimized more and more by common data objects for structuring the data comprehensibly and the possibility to identify these data sets and process them significantly.